The museum's collection includes over 6,000 objects with strengths in art of the United States and Latin America from the 20 th and 21 st centuries. Special areas of concentration include Haitian and Cuban painting, and multimedia works by self-taught artists and artists based in Miami.
Beyond the Americas, the collection includes a growing number of non-Western objects from Asia and Africa. In 1989, the museum acquired a portion of the collection of the Metropolitan Museum and Art Center of Coral Gables.
The collection included more than 2,300 objects and expanded the Frost Art Museum's collection of sculptures, photographs, and paintings by major 20 th-century artists, and its holdings related to the arts of Asia, including a significant selection of Japanese netsukes.
The museum continues to expand the collection through generous private donations.
If you wish to offer an artwork to the museum, please click here to learn more.
Digital Archives
The museum is engaged in an ongoing digitization process to make its collections more accessible to students, faculty, and the larger community. Currently, there are approximately 1,000 images available for viewing. Over time, we will continue to add works to this site to increase access to the museum's holdings. The current selections are rich and varied and include Haitian painting, Japanese netsukes, and modern and contemporary prints and photographs.
Collection objects digitized in collaboration with Academic Imaging Services, Department of IT, and support from FIU Technology Fee.
Hans Hofmann, Out of This World, 1945, Gouache on paper, Gift of Dr. Paul Lambert Schmitz, MET 87.01.01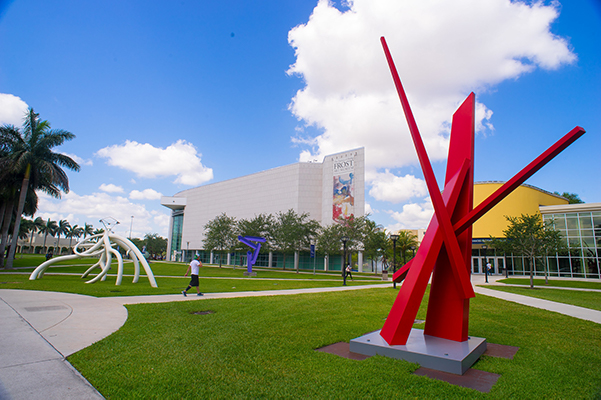 Stroll the Avenue of the Arts
FIU's Avenue of the Arts, where the Frost Art Museum sits, remains the focal point of the university's public art program. This well-travelled corridor connects the dynamic Wertheim Performing Arts Center to the Graham Center, a gathering place for students. The landscaped green open space features sculpture by Alexander Liberman, Manuel Mendive, Pablo Atchugarry, and John Henry.